Word Count: 3059
Takes: 8 minutes and 53 seconds to read.
A person who enjoyed doing the sport of biking until a major incident happened to him. Now is a Paintball Marshall as student job, and also got into foruming, is support staff member on FFO and owns a Xbox forum there named: Xbox Natter .
Max Pen: Before you got involved with forum administration you were into the sport biking. From what age did you start doing it and why did you do it? Do you recommend other people to try it? 
John Cable: I can't remember exactly when I started. I think it was my first year in senior school in 2004 my parents bought my first BMX and I joined my local team. I was always out on my bike, and I enjoyed racing around the track so I eventually got into the sport itself (BMX Race). I don't race now, however, due to physical fitness after a horrific injury.
I know I've not sold that very well, but I would certainly suggest to anybody who likes cycling to give it a go. But you have to have the attitude of:
"You ARE going to fall off and hurt yourself at some point. More so when your starting off. But you have to pick yourself up, dust yourself off, show off your war wounds and get back on that bike."
Max Pen: Were you aware it was a dangerous sport before the accident you got that caused you to stop? Did you stop because you were not allowed to do it anymore or because you didn't want to get yourself injured again so hard as last time?
John Cable: I was only 14(ish) when starting, so I guess I was oblivious to the fact I could injure myself as bad as I did in August 2007, but before that I had come off and hurt myself plenty of times. I wasn't scared of hurting myself, and I often would. But when I did put myself in hospital I guess it opened my eyes a little and I guess I was a bit scared with getting on my bike and racing again.
Don't get me wrong, I still thoroughly enjoy riding my Mountain Bike and Road Race bike, it's just BMX had it's toll on me. I fell into deep depression the months after I'd injured myself and I never gave myself the motivation to start properly racing in events again. I'm still enthusiastic to help with the club's events they hold though, but as a club member, as opposed to a club rider.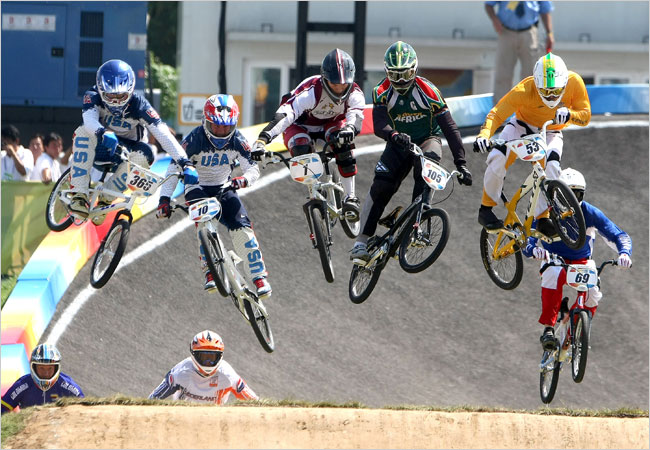 Max Pen: You said you raced, did you do it to win or just for the fun as in comradeship? Did you ever win a race? Is racing only for those who have done it for quit some time, the experienced?
John Cable: I've always been quite competitive, so I guess I wanted to race to win. The first even I took place in was at my local track when they held the regionals. This was the summer before 2007. I remember it was one of the wettest days of the year, but I managed 2nd, 3rd, 1st in my moto's and 2nd overall in my group on that day.
After that I traveled to other regional events to take part. I didn't do as well as I started, but I was riding a Mongoos Mischief which really was not designed for racing. It was August 5th 2007 when my Dad bought me a "Kuwahara 2KZ Team" racing bike, and a really cool jersey. I was told I wasn't allowed to ride my new bike in that event as I'd fall off and hurt myself because it was a completely different bike. Ironically enough the jersey my parents bought me that cost £45 was cut off me on the track side less than five minutes later following my accident.
So in a direct answer (Sorry, I seem to be referring to my accident in every answer.) – No, it isn't for people who have experience ONLY. Anybody can participate. There are Novice and Expert groups at the regionals that are in place just for this, so that if you turn up on the day and want to participate, you can with confidence that you won't get left standing by those who are obviously highly talented at the sport.
Max Pen: Imagine you never got that heavy accident with the hobby of biking, would you have grown in your hobby as real life job? Would there be a chance you never got into the whole forum part and owning a website thing? Or would you have in a other way found your way to forum management?
John Cable: The accident certainly played a large part of what I do as a hobby now. If I hadn't have hurt myself as bad as I did I'm pretty sure I would have gone on to at least continue with the sport. Whether I would have progressed, I'd like to think I could have but there is no way to tell.
I can remember the first day back home from Hospital I watched the entire season 1 of CSI: Crime Scene Investigation, which is over 19 hours if I'm not mistaken. The day after I watched season 2, all the way up until I ran out of seasons to watch. It was then when I signed up to an Xbox forum, even though I didn't actually have an Xbox at that time.
The community I joined I liked, and I actually bought an Xbox a couple of years ago and met what are now my best friends who I would trust with my life. In June of last year they told me I should make my own forum which I did. We didn't start with FreeForums. The host we originally chose we had nothing but problems with, so we decided to move. A quick search in google came up with FreeForums.org and I designed a site on their system. Ironically enough I enjoyed it so much and learned so quickly I applied for the support role in December/January and was added to the team on January 13th.
I think if I hadn't have gone down the path of depression having had such a hiccup in my life I probably wouldn't have come near forums as I have done
Max Pen: From where came the idea to start your forum "Xbox Natter". Did you get inspired by your friends who told you to start your own Xbox forum or were you thinking of starting it? What about the idea itself, did you just had a basic sketch with not most stuff worked out or did you had everything planned already?
john Cable: We wanted a unique name and I spent hours trying to think of a half-decent one. Xbox Natter (Pronounced Natt-er, not Nate-er) was what I thought of. Literally, a place for us to Natter about Xbox. It wasn't until recently when a couple of my American friends were pronouncing it "Nate-er" until I realized Natter really is a bit of a British word to use.
I had been considering it, because there was a forum I was a member of that I won't drop any names in because I have to say I was not at all impressed with the management of it. I guess it was also sort of out of spite I decided to start my own. The typical school-boy attitude of "I can do that better than you". – I can of course not, but I am pleased with how I've run my site and I'm proud to say its "mine".
Having said that, I couldn't have done it without the help of my friends. They encouraged me to make it and even though it isn't amazingly active we still have a good chuckle and my friend Nicki produces some sterlin graphic designs for us.
When we created the freeforums.org one, I made all of the rookie errors. – Having far too many forums with no users, having three global moderators for every one user etc. but over the time I've learned the management side of things, and the forum hasn't especially changed in the general layout of where the forums are.
We did start off with a sort of "partnership" with a gaming clan, but it turns out they didn't hold up to their word, so the layout of the forum changed after that. It was moreso just moving the forums around and adding/removing a couple of sections. The users liked the changes though, which is always important. The users opinion, whether you like it or not, should always be considered seriously.
Max Pen: Why did you pick "FreeForums" as free host to move your project "Xbox Natter" to? Was it the first type of site you found that offered the service you were looking for or was it the most appealing of the current sites you had visited?
John Cable: It was literally the first one that appeared in my google search for "Free Forum". I have never regretted choosing Freeforums.org as my host, they have been superb. I can remember my first questions on the support forum way back in September. Looking back at them they're quite embarrassing as I can do a few of those things I'd asked with my eyes closed!
When seeing "Freeforums.org the #1 free forum host" as well, that certainly had an impact on my decision to move to FreeForums without looking for another host. I certainly knew why they were the #1 host, and am proud to be a part of the team.
Max Pen: Was it the support and quality of there service that kept you using FFO? What is your most liked thing about the whole site,service in general of FFO? What built in feature is what you use the most on your own forum "Xbox Natter" from its beginning until now?
John Cable: I can remember the support was very good. It was just Paul and Christy (Wickett and Sabre) at the time. I really do look up to them now as a part of the team. I don't think a particular feature was used the most as so to speak. I guess the general "php" styled approach to things were the best features, although the premium option FF offer certainly was used a lot. I bought the domain http://www.xboxnatter.com and the premium service, and even though we didn't use every premium MOD, we really did enjoy having these extra features.
It was actually at the beginning of February, however, I transferred away from FreeForums.org onto what we call "Advanced Hosting" where you get complete FTP access and customization over your site. This opened up a thousand opportunities for me to improve the site. Even though improvements have been slow because of Exams and college – which I always place first – I'm hoping to get a new style fully coded with the MODs we have installed, so I can introduce it to the site.
Some of the improvements, I've noticed are being suggested on the FF support forum now and then, and a few of them have even been submitted to our google moderator where people can vote on features they would like to see available on the FreeForums system. I know the Admins are always wanting to improve the service we provide, and in the latest newsletter it was apparently that new features may be around the corner
Max Pen: You joined the Support Team of FFO, did you know during or before applying everything you had to do if you would get the job? If you look back to now are you happy you applied or rather thinking it was not such a smart choice? What keeps you motivated to go day after day?
John Cable: I have had no regrets what so ever since joining. It certainly is a great privilege to be able to say "I'm a support staff volunteer on the #1 free forum host" (Without sounding big-headed)
When I applied I had been trying to voice my opinion that an overseas support staff would be a good idea.
I can remember in my initial application mentioning this, and I was really pleased to see that they got back to me about it. When applying I knew there would be questions I wouldn't be able to answer, and I didn't let myself get bothered with it.
There are still the occasional questions I cant answer, but I monitor each one of them so I can learn from them. I certainly have no regrets what so ever for applying and joining the team, it really is a privilege to be able to help the customers.
Max Pen: Now about real life: Your student or real life job is being a Paintball Marshal. From which date did you start doing it and was it hard to get signed up on the job, them letting you work there?
John Cable: It was sourly down to one of my college friends for how I got the job as a Paintball Marshal. He asked me if I wanted some work, and if I fancied being a Marshal like he has been for a few years. The strange thing is I can't remember exactly when it was when I first started working. October I think is safe to say. We haven't had a lot of work over the winter period, but it's starting to pick up now which is excellent because it is an amazing job, I love it a lot and I'm even starting to get into professional paintball too.
Max Pen: Does the job require to have a good condition, have some muscles in your legs and arms? Or could a nerd in way of saying manage the job as well? Do they allow you to be emotional or must you never show a tear in a way of saying?
John Cable: Oh, Marshals feel no pain! – In all seriousness, paint balling hurts, and it doesn't hurt. Marshals are always prone to being hit by a stray (or directed) paintball, but we always grit out teeth and get on with it. We can't be curling up on the floor in front of the "punters" (customers) and crying. – Although, when we occasionally get hit in the nackers, we do have to catch our breath!
As for our physical fitness, mine hasn't been 100% for a few years now, and I am a little over weight. It certainly does play a large part in my job, so I'd be lying if I would say that anybody could do it. My fitness, however, is fine for my job. I'd just personally prefer it to be a lot better!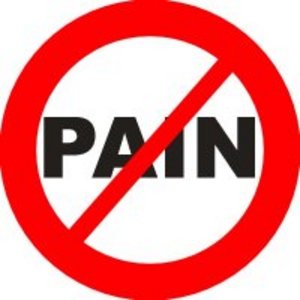 Max Pen: Is there a certain way that you got to earn the respect of the other paintball marshal who are more experienced and worked there longer? Or is everyone (your college's) very kind and welcoming to new comers?
John Cable: (My college and paintballing job are separate, sorry if there was a bit of confusion there) – When I started work I worked my butt off, and I still do. We have to work very hard, rightly so. On days when we have very large groups booked in, we have to work doubly-so. I guess respect is something that you earn as you get to know people. We're all regular guys, my friend and I still in college and the others in their late twenties/early thirties. We do get along with each other, and I respect them all, even if there is something that one of them does that I'd prefer to do differently.
Max Pen: The place you work at is situated in Cowdown, Andover, Hampshire and was voted Number 1 in the UK. Why do you think this happened and how does it make you feel personally working at that place? is there any competition to the type of business?
John Cable: I was not aware of this until a few weeks ago when my friend told me, and I have to say I was impressed. I guess the reason we were voted Number 1 in the UK in 2008 onwards must reflect on how we run it. We always stay courteous to the customers, whilst staying on the strict health and safety rules that are explained in the mornings. There is certainly competition with our site.
Another paint balling company, (again I won't name names because I wouldn't want to offend,) have extremely good advertising and marketing. Their sites in general, from experience I've not enjoyed my stay. A LOT of money is being pumped into the sites and I have to admit if I was running them I'd do things differently.
I guess that's just down to preference though, and how each individual compound is run. And there are, of course, things I'd love to improve about our site. Money permitting, hopefully we can in the coming years.
Max Pen: will you keep doing the job of Paintball Marshal for the coming years, what are the ups and downs you have noticed so far?
John Cable: I certainly will. I'm in college for my third year next year and afterwords I'm going to try and save my money so I can go to live with my girlfriend.
The ups of the job? It's physical exercise, and at the end of the day I forget I'm even going to be paid I enjoy it so much.
It's a great experience, and it's a new sport/hobby that I am starting to get serious with. The downs? There is never absolute guaranteed work – (which I've known from the start), and if you have a particularly over excited group they can get a bit mischievous and when (in rare circumstances) you have to pull someone out of a game for breaking the rules, you're always the bad guy if you know what I mean. – But I always overcome that, and that's what my colleagues are there for too.
They have my back, I have theirs. If I make a rash decision they tell me, and I appreciate it. They've had more experience than me and it is a learning experience for myself. This applys for the support role on FF too. I always appreciate it if I've said/done something that isn't strictly correct and I'm told this by my colleagues.
This was a very great interview I really enjoyed doing this over msn with you John Cable. I hope everyone has a nice read on this. -Max Pen